Creative Strategy
South Sudan Famine
In response to a severe drought affecting South Sudan and surrounding nations, I developed a multi-channel strategy that helped us generate over $800,000 in donations in record time. Online donations —as a result of targeted Facebook posts and email campaigns— made up 40% of that revenue.
Website Redesign
As project manager for the redesign and repositioning of ADRA.org, I worked with a creative agency to optimize the user experience, making it easier for supporters to donate online and learn more about ADRA's global work. I changed the focus of content to be story driven and improved the information architecture, making it easier for users to quickly find what they were looking for. The reengineering of the site has lead to on average an increase in online donations by 20% year-over-year.
Nepal Earthquake
A multi-channel campaign was developed to raise funds for the devastation in Nepal following the 2015 earthquake. I led the online effort communicating the key messages of the campaign on social media, on the web, and through email marketing. Strong visuals from days after the earthquake were used to show a more personal side of the disaster.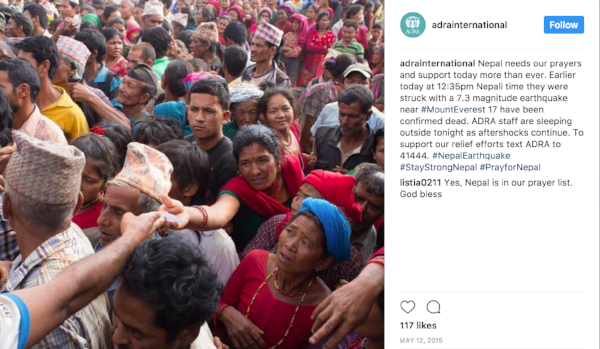 Erykah St. Louis